Automatic Swing Gate Repair in Dubai


We are the specialists in the Automatic swing for all Private Homes and Commercial Properties
Automatic swing gate repair in Dubai Our automatic swing gate clients in the Dubai, metropolitan area do vary, but typically our customers include private residential homes, businesses, industrial estates, building contractors, farms, clubs, local government, schools, Vill, Shop, and hospitals.
We work alongside our customers (and their agents that often include architects and specifiers) to establish their specific aspirations,  requirements for the type of automatic gates that they would like.
 Commercial Automatic Swing Gates Dubai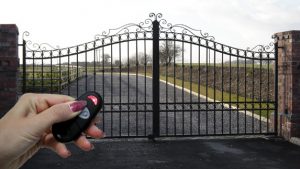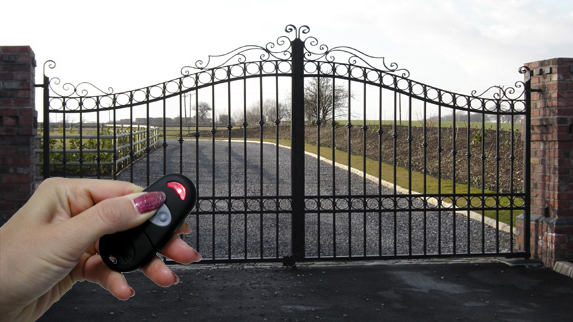 We have been established since 1996 as the preferred swing gate installer and we have expanded ever since encompassing individual homeowners to the large builders and developers the in-house team will visit any domestic or commercial property in Dubai or metropolitan area and carry out an…
All of our clients are very important to us and we pride ourselves on our professional workmanship and all of our Automatic swing gate repair in Dubai installations not just in Dubai but across the whole area and further afield.
We are specialists and our portfolio of clients range from the automation of a single swing 5 bar gates to huge swing industrial gates, with or without gate locking mechanisms (depending on their use), our engineers have years of gate installation experience that will ensure your project is installed as it should be; safe, secure and on budget.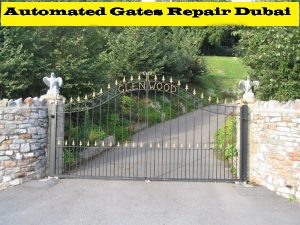 A&E Group's years of experience and expertise will ensure that your security gate will be planned and installed correctly, on-time and on a budget by professional engineers who will ensure that it is secure, safe and any risks eliminated. By having automatic gates fitted, you are increasing your security and protecting your property in Dubai
It is our company reputation in Dubai that has ensured our name has been passed on numerous times as the company to speak to for automatic gates, installations or service. You may well have arrived here on our website from someone has referred us to you.
Even if you already have automatic gates fitted to your property in Dubai or the metropolitan area by another automatic gate company but would prefer a higher level of security, response, and service, please get in contact with us as we would be delighted to service and maintain your existing swing gates.
Swing Gates versus Hydraulic powered gates?
Without wishing to get too technical, we are often asked which method of powering a swing gate is best, and the honest answer depends on the type, weight an, Automatic swing gate repair in Dubai use of the gate, all of which we can explain during a site survey but as a general rule: Electro-Mechanical gate automation equipment is generally designed for the domestic user and has a duty cycle which reflects the usage of a family residences or entrances that are not busy throughout the day Automatic swing gate repair in Dubai.
Automatic swing gate repair in Dubai Electro-Hydraulic security gate equipment, on the other hand, is generally designed for a higher duty cycle and is more suited for busy entrances and prestige or heavy automatic gates. Our hydraulic gate operators are fully serviceable and, if properly maintained, will give many years of reliable service.
Both of these methods of power to operate an automatic swing gate require an electrical supply, the difference is how each method uses the electricity to efficiently and safely drive the swing gate mechanism.
Again in both methods of automation, the systems use electronics to control the gate so hence they are also known as swing gates. Our engineers are specialists in understanding the electronics of a gate and their relationship with the electronic sensors and devices that are used to ensure the safety of it. Automatic swing gate repair in Dubai The experience of our gate engineers most certainly counts when repairing electronic swing gates as they in many cases have probably seen the same or a similar fault before and can get the cause of any problem with the electronics or mechanics fast and efficiently.
Automatic swing gate repair in Dubai
sliding gates, cantilever sliding gates, industrial gates, bi-folding gates, pedestrian gates (powered or manual), we can even install manual gates if you wish. In Dubai, metropolitan we can install all types of automatic gates, electric gates or security gates; single or double swing gates, sliding gates, cantilever sliding gates, industrial gates, bi-folding gates, pedestrian gates (powered or manual), we can even install manual gates if you wish.
As the automatic swing gate specialists (hydraulic or electric gates) in Dubai, metropolitan we are your automatic choice to install, repair or maintain your automatic gates to a high standard ensuring that they are safe, reliable and problem free Automatic swing gate repair in Dubai.
We offer different brands of automatic swing gate or electric gate automation systems and with our talented engineers we can support many others including:
FAAC
CAME
NICE
Aprimatic
BFT
Genius
Automatic swing gate repair in Dubai These being the main Automatic Gate System Manufacturers. If you are considering having Automatic swing Gates installed in Dubai or the surrounding metropolitan area, or if you wish to have your existing electric gates repaired or serviced, please contact us for a friendly, no obligation chat and to arrange for a gate engineer to survey and offer a competitive quotation. Picture Hanging in Dubai
Categories: Blog